A few days ago I decided to spend $500 out of my own pocket to hire a professional designer for a small project. I have interviewed designers before but have never hired a freelancer, and the results have quite surprised me.
Sharing them with you in hope that they will:
help you grow as a freelancer,
or provide an insight into what it's like to choose a visual artist.
The Frontend Bay
Just before deciding to hire a designer, I had finalized my vision and plans for the side project I am gonna work on in the coming months — as well as hire people to help me with it.
It is going to be an experiment in content and social-media marketing called The Frontend Bay — a place for front-end developers to get inspired, learn, have fun, and succeed at building a fulfilling career. While I'd be happy to share much more about the idea itself, the subject of this article is different.
If you're interested in the project itself and how it is going along, please subscribe to my Twitter @oleggromov as I've adopted the idea of building in public, and will be regularly sharing my progress.
Posting the Job Description
I believe in the power of brands, which are communicated ideas. Some ideas are good and some are bad; this is what I am planning to find out as an entrepreneur. But the communication side of things, including visuals, has to be clean and professional.
Therefore I decided to start with hiring a brand/logo/SMM designer for this project. It will help make posts and profiles attractive to the target audeince and convey the right ideas, at least I hope so.
Since I've got a 2000+ subscriber telegram channel and a Twitter account, which I am actively growing now, I decided to post the project description in both alongside a call for designers.
Number of Responses
The number of responses shocked me in two ways.
First off, only a single designer coming from my Russian-speaking telegram community has replied to the project posting.
I expected much more — yet, I guess, the audience of my channel is different. Perhaps the job description written in English has deterred some only Russian-speaking folks too. But I think it was the right call, because the project is going to target English speaking people and I expect the designer to be comfortable with English.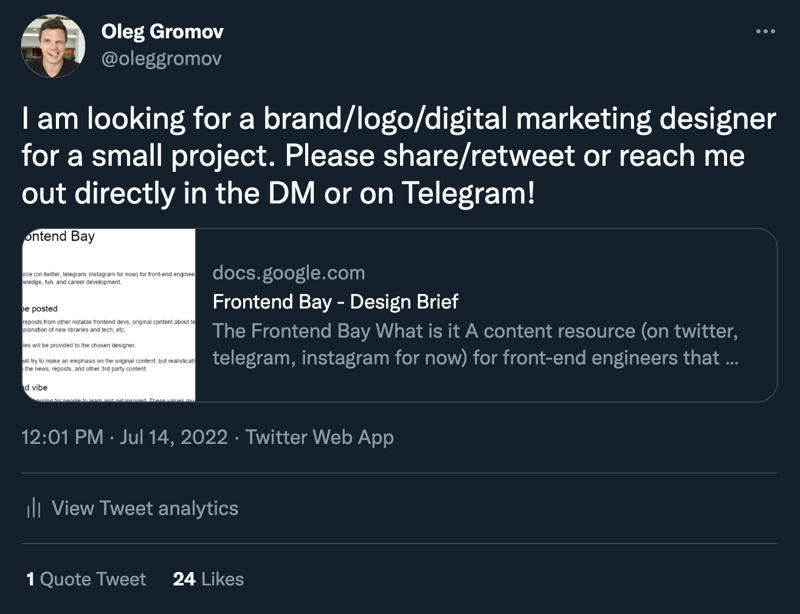 Twitter, on the other hand, had totally blown my mind. I have received over 25 reponses from individual designers and design agencies. This is with only about 350 followers, most part of which are totally inactive and may be not even real people but bots 🤪
I don't even have an idea how they found this tweet. Maybe the people who replied are actively searching Twitter for phrases such as "designer wanted". I don't know.
Choosing Candidates
As I totally didn't expect the number of responses to be that large, I had to come up with a formalized process of filtering the responses.
Initial Expectations and Design Brief
The first thing I did was writing the design brief. It took me about 1 hour to complete it and I expected interested people to read it first.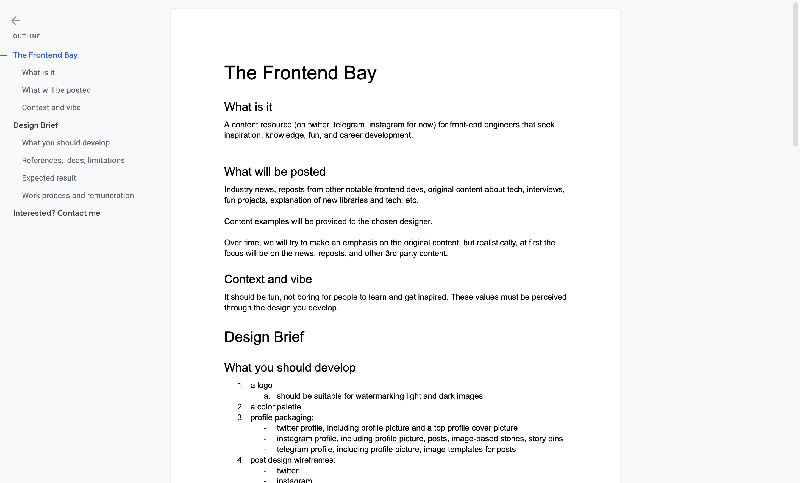 There is a few useful things mentioned in the brief:
What the project is and why I am pursuing this idea
What exactly has to be done: logo, color palette, guidance on using the logo and social media post templates
My expectations with regards to providing references, work process, some of the limitations and ideas I have
The budget, which is fixed at $500 — since I am paying for the thing out of my own pocket, and have to put a limit on the costs
The fact that I can only accept designers that have done previous jobs before
Evaluation Axes and Filtering Responses
Broadly speaking, as a customer, I expect two things:
Attention to the project details, my expectations and goals
High-quality work aligned with my sense of beauty
These are very subjective in nature. But so be it. Nonetheless, I tried to be fair and objective during the initial "screening" of the candidates.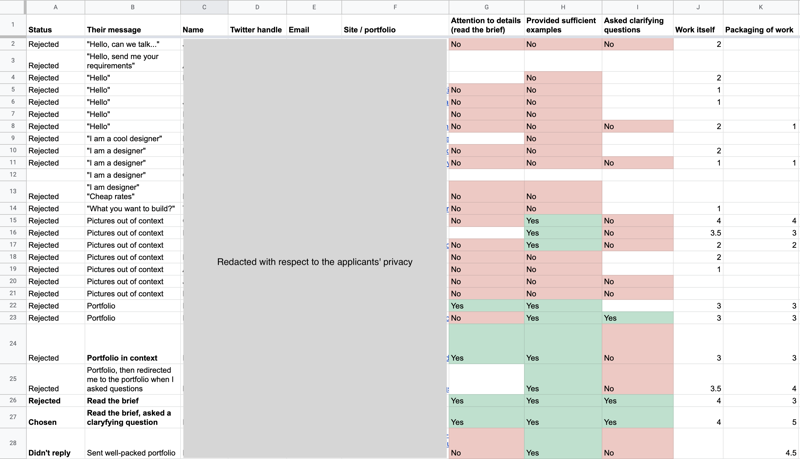 The last thing I look for is trustworthiness. Since it is virtually impossible to (dis)prove it during the initial conversation, I am ok with risking $200 — the 40% of the budget I am going to pay in advance.
Attention to Details Explained
Given the "attention to details" expectation, I looked for and evaluated the following things:
Having read the brief before replying — that loosely equals attention to details to me
Providing sufficient examples, that is logos and SMM design references — again, I asked to do so in the brief
Asking clarifying questions (especially if you haven't read the brief!)
These 3 things were essential to me, especially the first two points, and I initially looked at every response through the lens of these expectations.
The vast majority of respondees did surprisingly bad!
Numbers
As I had to formalize the process due to the sheer number of responses, I've put every candidate into a spreadsheet and classified their responses into a few categories.
First message
Responses
Percentage
"Hello, I am a designer..."
13
~48%
Screenshots out of context
7
~26%
Portfolio
4
~15%
Read the brief
(and asked claryfying questions on point)
3
(1)
~11%
(~3%)
As you can see, the mind-boggling 48% of designers just replied with a "hello" message of some kind, optionally followed by "I am a designer" or "I will make your logo dope". I can't judge this per se — even though, since I have spent time writing the brief and pointing to it, they didn't really make the cut automatically.
The other category of responses making up the next 26% approximately were a bit more respectful of their prospect's time, and sent pictures of their work. However, these were presented out of context and in most cases, it was entirely opaque for whom the work has been done or how it was used in real life. These examples showed the quality of their work but didn't sell the services.
Next, only 4, or ~15% of applicants have showed me a somewhat packaged portfolio. It would be cool in other circumstances, had I only not written the brief! Which I did.
Only three designers (or about 7%) have read my design brief. I conclude this from the content of their messages, where it was obvious whether or not they cared enough to read it.
And ultimately, only a single person asked clarifying questions clearly related to an unclear statement in the brief, which immediately made them the top applicant.
Ignoring the Brief
Based on the numbers above, almost 90% (24 out of 27) of the interested designers haven't read the brief!
What could it tell me, as their prospective client? Without making any generalized and possibly uncomfortable conclusions, I reckon that they simply didn't want the job. It is ok not to want the job as long as you don't bother applying for it too.
A few candidates went even further and asked me to explain what I want to build despite the fact it was in the original tweet:
i am a professional designer kindly send me your requirements
This is odd. Not only did I provide the brief, I explicitly asked to read it after the first responses came in.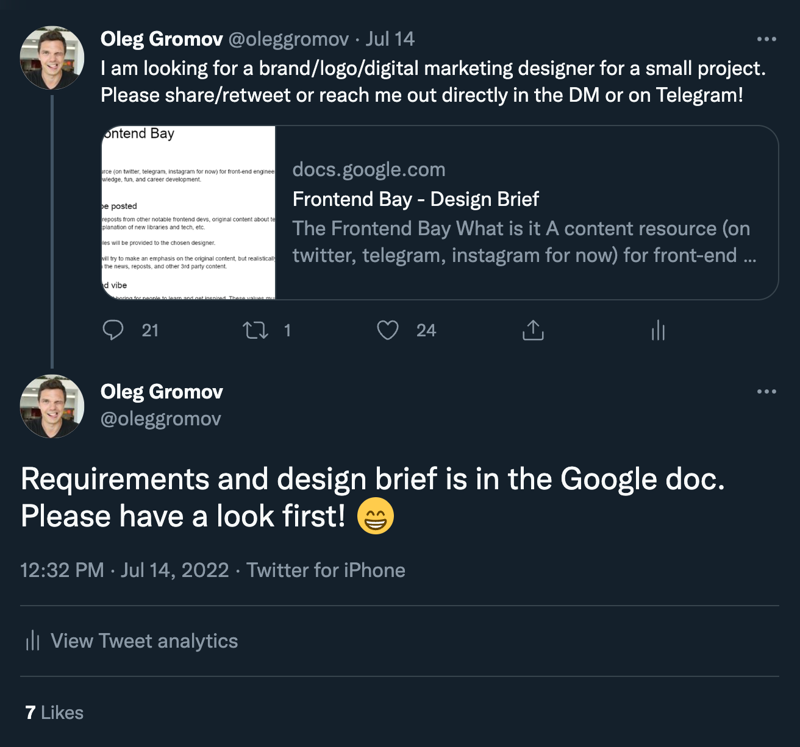 You may guess that such neglect almost immediately meant to me that I would have to reject their applications.
Sending Insufficient Examples
Only about 40% of the designers sent me some examples, either screenshots of their work or a well-packaged portfolio on a website or somewhere else. So far so good!
But! The problem with these responses was that they were just some logos and images, most often completely lacking context. It wasn't clear what the logo was created for, and therefore, how these projects were similar to The Frontend Bay.
This would've been fine, unless I hadn't stated explicitly in the brief:
I can only accept people who have done similar jobs before.
Since I asked for the logo design and social media posts design, this meant these people didn't read the brief. Again, this is sad — and I am fairly certain that there were enough talanted and capable designers in this batch. But I made a call to reject these applications.
Designers That Care
Finally, 3 people out of the 27 total applicants (slightly over 10%) have shown some care for my project and the work I have done for them in advance. They have read my brief, provided sufficient examples, and asked questions related to the project.
With these people I had conversations (mostly through email) about what I am building and their past experience.
One of the first responses that came in, and which turned out to be one of the best, was from a design agency without a real person picture or name in their Twitter profile.
This held me back a bit in the beginning, although after a few messages it became obvious that they're as trustworthy as possible (as far as guessing trustworthiness based on a conversation on Twitter goes).
This person was a mile ahead of everyone else in terms of their work ethics, as they have:
Read the brief and asked for clarification regarding some details
Found my website, which is mentioned on my Twitter profile, and apparently has read the "About" page
Found my email address there and sent me a message
Aren't these steps very simple and obvious? To me they are. Yet, they were only done by 1 out of 27 people that exhibited some interest in the project.
Work Ethics
These examples are what I would call poor work ethics.
As a developer with more than 3 years of freelancing experience (in the beginning of my career), tens of clients and hundreds of completed projects, I learned how important it is to be attentive to your client and their expecations. If someone bothers to provide you with a detailed job description, it must be worth reading.
Even when it turns out to be total nonsense, it still communicates a lot of valuable information to you.
Combined with the fact that many of the people that got in touch with me seem to be in the very beginning of their careers, improving work ethics is a crucial growth point for them to win more clients and become better professionals.
Work Quality
At this point, I have only filtered out the responses based on work ethics and, partly, soft skills shown by the applicants.
But I wanted the designer I choose to match my expectations for high-quality work. This, again, is fairly subjective — but as a person that designs things (web UIs, UX in various contexts, display and web graphics) quite often, I sort of know what I am looking for.
At the same time, I appreciate the fact that many candidates are only starting their careers and/or do slightly different things, such as art for Twitch streamers. (I didn't even know this is a thing!)
All that being said, there were two important things I looked at:
Clean, modern, witty, confident design choices that don't break basic design principles
Good portfolio and case packaging
Judging designers and their work isn't my forte, neither is it the point of this article. For this reason, I am withrdawing from describing in detail which projects were good and which were bad.
I will only mention that I was quite surprised by the quality of work that most of the applicants shared with me! Had I tried to choose designers solely based on quality of their work, especially given that most people will most likely share only their best projects, I'd be in trouble 🤪
Choosing a Freelancer is Time Consuming
Most unexpectedly, the process of choosing a designer had taken me quite some time! In part, because there were much more reponses than I could expect, and I tried to be fair and look at each candidate's work closely enough.
At the moment of writing this, I have chosen the designer to work with — and I am quite grateful that I've had a chance to choose!
But another reason for that much being time spent on the selection is concerning. The overwhelming majority of the applied designers package, present, and promote their work and services insufficiently well.
Next time I hire a freelancer, I'd probably just state in the brief something very obvious such as "say 'gorilla' in your first message". And then reject immediately based on the absence of the expected word.
It would be fair, wouldn't it?
The Most Professional Designer
The best designer that I chose to help me with the Frontend Bay, went above and beyond all my expectations and, of course, everyone else that applied.
Their first message was polite and showing that they've paid attention to the design brief
After my first response, they took the liberty of finding my email on the website
And sent me a sample of their finished projects that are similar to what I wanted
They took enough time to write lengthy replies to my questions
And shared even more finished design projects that convinced me they've got enough experience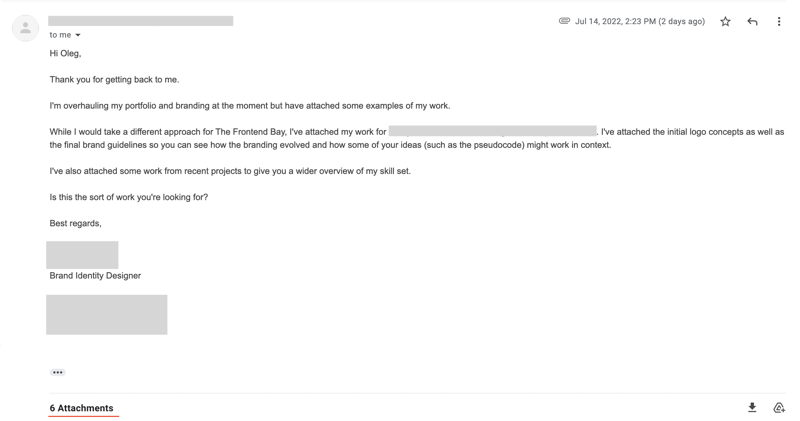 Aside from that, they've got a website (although empty now), a nice and seemingly legit email address using this site's domain. There's clearly a big portfolio of successful (or at least finished) design projects under their belt, which are packaged in a nice portfolio, including guidelines on how to use the design — not only screenshots. They were polite and caring. Reliable.
Such person is easy to trust and must be fun to work with. Essentially, I could've just proceeded with them and discard other applications immediately — but I wanted to be fair and objective.
Recommendations for Designers
Summarizing everything written, this is what I'd recommend freelance designers to think about:
Learn about your client before accepting a job. This will help you — and show them that you care.
Pay attention to what your clients share with you. The most confusing experience, as a client, is when you spend time writing a detailed brief — and it is ignored!
Package your work into a portfolio that tells stories and be ready to share samples relevant for your client's project. This will help them choose you over the other applicants.
Be authentic. Having a website with a clean URL, showing your real name helps to build trust without meeting each other.
Take the liberty of proactively sharing what could help persuading your prospects to work with you. This will save them time while you'll appear as caring for them.
Following the above will likely put you in the top 10% of your competitors, if not fewer!
Thank You for Reading!
If you enjoyed the read, please follow me on Twitter: @oleggromov. I will keep sharing my progress with the Frontend Bay, as well as other things related to programming, entrepreneurship, career, and my life of bouncing between all these.